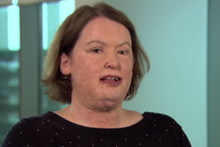 "When I was 7, nineteen years ago I was in a house fire which resulted in 70% burns to my face and my body, so it would have burnt off my eyebrows and I would have had patchy baldness all over of my head.
I actually came to see Maurice about 10 years ago in the very beginning to speak to him, but then I went to college so I didn't do anything for about 5 years and then came back. He remembered me and we came and spoke to him and he had experience doing burns people before so he knew all about it. He took me through everything and of course doing hair transplants on burns and skin grafts it's a lot different than normal skin. So he would have explained the differences and all that, but it was very relaxed and very laid back, it was nice.
I think there's a lot of treatment out there, like say classed as cosmetic treatment that people don't realise or people with burns don't realise can actually be used on them and actually works and can be used for reconstructive purposes. So you'd hear about all these film stars and the famous people getting the hair transplants and you'd think that it was just for those types of people, but it actually does work and it should be used on people with disfigurements and stuff cause it makes a huge difference. I didn't think it would work to be honest. I just thought I would give it a go, I've nothing to lose. But it does make a huge difference.
I like them all here, Maurice and Jo; because they're very open and honest. In other places you might feel that they're kind of sales people, but here I like it, because, obviously they want to sell it but they're more on the patient's side as well. They're very honest and very open, I appreciate that, I like that. You don't feel like you getting conned, if they don't think its right for you, they'll tell you it's not right for you. It's not about money, it's about making people feel better. Fixing what people think is wrong really.
Before I had it done, they kept telling me here that it would make a huge difference and you won't realise the difference. I was like "Yeah ok, whatever, I'll just get it done". But looking back on pictures, it did make a huge difference. I didn't realize at the time, like before hand, how much of an effect not having eyebrows and with the hairline pretty far back, how noticeable it was really. It's only afterward that I noticed how much better I look with it. I actually don't get as much bad attention. If I'm out on the street people don't notice me as much. So I 'm sure that's got to do with it."