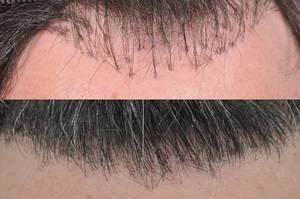 Dear Dr. Collins,
I just want to thank you and your staff for transforming my life in the matter of a twelve hour period. Since my first initial contact with Hair Restoration Ltd, I felt confident that I was dealing with a thoroughly professional and capable organisation.
My hair began receding over a gradual period from the age of 21. Since then I became paranoid about my hair loss. I foolishly got plugs inserted, which left my appearance altered to such a state, that in later years and especially the last two years I became self-conscious about my appearance. Going to social occasions, swimming (wearing a swim hat) and even being out and about on a windy day were stressful and a logistical nightmare to me. I had to carefully plan how I was styling my hair or on most occasions avoid being in the situation at all. The hardest thing to handle was seeing people look at my scalp and plugs (albeit on their part probably subconsciously) but created an environment for me where I just wanted to get out of their view as quickly as possible. Enjoying the interaction with family, friends and colleagues was never fully attained.
After my first consultation, I decided to go for the operation to remove the plugs and get a hair transplant. It was relatively painless and I was very comfortable throughout the process. While the cost is relatively high there are less expensive treatments out there, which are basically sticky plaster solutions to a long-term problem.
The cost involved is so insignificant against the feeling of confidence I now enjoy. I am now looking forward to greater social interaction, swimming with my family and possibly the purchase of a 'panama hat'. I now feel I can reach my full potential in life both domestically and in my workplace.
Each day I now go out with a spring in my step. My gratitude to you and your team for giving me that leap of faith.
I wish to thank you and your staff for your intense work and professional approach to my hair restoration and know that you will bring happiness and contentment to many others in the future.
Sincerely yours