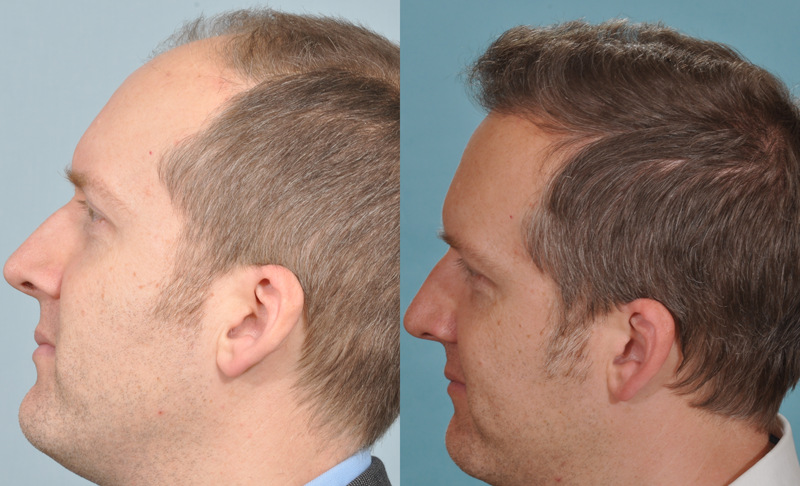 When I got married 15 years ago, my Dad came up to me at the wedding and said to me, "Son, you're losing your hair." He was right, and the effects were becoming more noticeable, a small but growing bald patch at the front.
I pressed on in the hope that somehow the baldness which had plagued every generation of my family was not going to get me – my Grandad was bald by 20 and my Dad has had a 70's style comb over since I was very young. Sadly, will power alone didn't keep my hair on my head and gradually I became bald at the front heading to the back of my head, with the odd wisps of hair to remind me of days long gone.
It got so noticeable, in 2003 that I had a grade 1 cut all over. This balanced out my hair line but aged me overnight.
I was never really happy with growing bald. I read an article once which encouraged every man going to bald to stop stressing and "buy a hat." Sadly, it just wasn't that simple for me. I wanted my hair back and I want to look and feel young again. Since losing my hair, I'd taken on more senior roles in business and was now regularly meeting new people and presenting at conferences and my confidence was starting to suffer. I found it hard meeting people and became very self conscious about how I looked and easily embarrassed – it even became a bit of a joke for my two kids…
I did a lot of research, went down some very blind alleys and setbacks until I reached a decision – I want my hair back and I'm going to do it. I was inspired by recent media coverage of celebrities like James Nesbit and Wayne Rooney and thought, "well, if they can do it, why can't I?"
This led me to HRBR. I looked online and found lots of clinics promising the earth with before and after photos I didn't know if I could believe or not. But HRBR was different – they were upfront and transparent right from the start and my visits and then surgery only further confirmed this.
The photos you see here are genuine and yes this is me. I had surgery in May 2012 and its one of the best things I have ever done. When the hair starting growing back it was sensational and to this day its such a brilliant piece of surgery that most people just say "great hair cut" – a sign that the hair is genuine and fits in brilliantly with my existing hair.
A quote from my 12 year old son pretty much sums it up and I remember word for word what he said – "I don't mean to be rude Dad but you were sort of bald, but with your hair you look awesome now." And at Christmas just gone my Dad took me to one side at a family party and whispered, "I love your hair." Praise indeed, job done.