When a patient walks out of the clinic after their hair transplant surgery, it is far from the last contact he or she has with our team at HRBR. As part of the post-operative care programme, patients are seen by the team on the day immediately after the procedure and again 7-10 days following this. We also schedule both a 6-month and 12-month check-up to keep track of progress. These appointments are all included in the cost of a patient's hair transplant at HRBR. So, what results should a typical patient at HRBR expect from their hair transplant 6-months post op?
At HRBR we are careful to ensure patients understand that a hair transplant does not produce a dramatic overnight effect. The hairs contained in the transplanted grafts will fall out three to four weeks after surgery. The all-important hair follicle remains anchored beneath the scalp and will begin to grow a new hair about three to four months after the transplant. This subtle regrowth blends seamlessly with existing hair and continues to grow forever. On that basis, a hair transplant 6-months post op should start to display some noticeable benefits. The full effect of the hair transplant will be seen between a year and 18-months post-surgery.
Hair transplant 6-months post op check up
We followed one of our patients, Mark Berry, through his experience of hair transplant surgery at HRBR in a series of video blogs. This video shows Mark 6-months post op at his scheduled check-up. This is a great opportunity for Dr Maurice Collins, Mark's hair transplant surgeon to assess his progress and for Mark to ask any questions.  At the 6-month post op check-up the surgeon will check the donor area.  At this stage, if all has gone well, the scar should be virtually invisible.
Hair transplant 6-months post op – before and after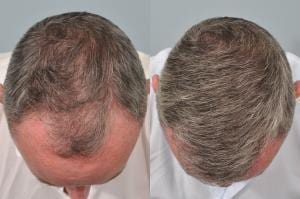 The surgeon will have taken images of the patient's hair from several different angles before his or her hair transplant. At the 6-month post-operative check-up those images will be taken once again for comparative purposes.  Seeing the before and after pictures is usually a highlight for our patients, as was the case with Mark. This process will be repeated at the 12-month check-up to reveal the result of the hair transplant.
Hair loss treatment at HRBR
If you are concerned about your hair loss and would like to discuss the treatment options available at HRBR, why not give us a call to arrange an appointment.