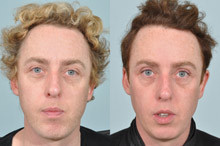 Celebrity hairdresser James Brown had a hair transplant at HRBR in March, 2011.
James is best known for his work with celebrities including Kate Moss, Sienna Miller, Lily Allen, Anne Hathaway, Liv Tyler, Diane Kruger and Emma Watson.
James' rise to the top began with his first hairdressing job in a Croydon salon at the age of 15. This is where he first encountered Kate Moss.
He has launched two successful hair products and hair care brands, Photo Fabulous and James Brown London. James' media profile received a boost when in 2009 he was profiled in an E4 Documentary, James Brown's Supermodel Salon. The success of this show led to the commission of the popular Channel 4 series The Great British Hairdresser, on which he worked alongside editor of Glamour Magazine Jo Elvin and supermodel Abbey Clancy.
James is a regular style contributor to Glamour Magazine.
More pictures: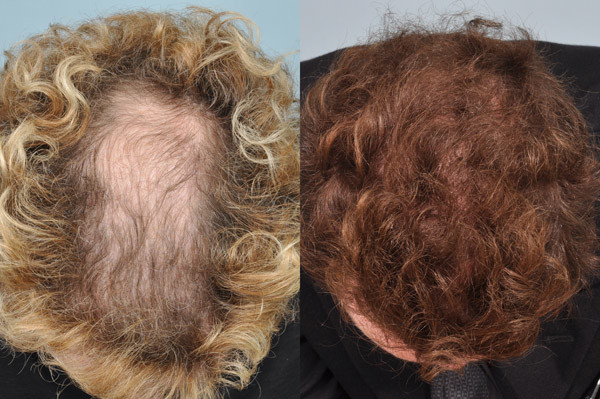 When I was about 24 I noticed, I was in Miami and my hair got wet and I noticed in the mirror. I caught sight of myself in a hotel room and I thought my hair is going on the top. But what kind of saved me was that I had curly hair so you couldn't really notice it, but it was something that was constantly on my mind and I just was, one, too nervous to do it. Two, I didn't have the confidence to do it or talk about it, so I just kind of let it go really and then it got to the point where it got worse and worse and worse to the point where I just had to do something about it.
I was kind of known for wearing hats, which I still wear all the time anyway, that's kind of my look when I work. But I went to a premier for a film and someone asked me to take my hat off and I was like 'oh my god I don't want to take my hat off with like 40 rows of people behind me', so that's, when I was that nervous about it and that insecure and paranoid about it, I thought I have to now address this and do something about it.
Because of the industry I am in and because I work with actors, actresses and I am known for being a famous hairdresser I had to get this right. I wasn't going to take any risks so I investigated and I researched and I made it my life's mission to find out who was the best in the world at doing the surgery. I had been to see other people in America and different places and I just wasn't happy, they didn't give me the time, they weren't compassionate, they just was kind of 'get them in get them out' and I thought if they didn't give me the time to consult me about the surgery I sure as hell wasn't going to have the surgery there, so you know, when I found HRBR, I was given loads of time here and they understood my situation and I was made to feel really at ease from the second I arrived and it was all just a pleasure almost. It was such a release when I first came from my consultation and I walked out of here knowing that, cause I thought, you always think the worst, like they won't be able to do anything, mine's the worst case and then when you see other pictures and they tell you what you can do and what is achievable, it was literally skip down the road I was just so relieved, especially because of the industry I am in, you know, so it was just, it was just a done deal for me, once I had come here it was just a done deal.
The actual experience after almost 10, 15 years of stress that it caused me in my life, the actual experience was I can't almost remember it, it was so easy and pleasurable and I was terrified of maybe it would be painful and what Id have to do. I have just forgotten about it now which is amazing really like I'm trying to think back and the team was so great, it was just, dare I say it, pleasurable and you chit chat through the surgery then you watch a film if you want and it was so easy, and not ever having any sort of surgery in my life of any sort, you know I had, I was terrified in my head, but it was fine.
Most people haven't really noticed, a few very close friends said your bald bits gone and I've said oh has it, and then I've told them and they are like god its amazing. I live going through airports, like I mean LA, London, Paris all the different airports and just I used to panic about going through security, that's how bad it was before Like I panic about having to take my hat off my coat, shoes all that, so those seconds or minutes sometimes in a big queue of panic when they ask you to take your hat off was torture for me. So, just even those moments are incredible and you kind of know in your head that you've got a full head of hair now so your like 'hat off whatever', and just little moments like that just change your life completely, it's incredible. Now I've got my hair back and I know this is my hair, its not somebody else's, its not sewn on, its there for life now and it took me awhile to get my head around that like 'is this going to stay for life am I going to have this forever?'. I don't have to take any tablets, its kind of done and that's it. I've got a full head of hair back which has made me go quite crazy being in fashion, so I dyed it black and I changed the colour and ive done all crazy things with it since because I have the confidence now that, its mine its not going to fall out, I can touch it, I can pull it, I can do anything to it and its like hair a full head of hair now, its not you know something that's going to blow off in the wind or go. It's my hair but its just been moved to the areas that had a problem. So it takes awhile to get the confidence to think like that you can run your hands through it and you can do different things with it, so its incredible, its just moving it from one part to the other, and I really wish I had it done 10 years ago really, its taken me 10 years of hell, but its fantastic, its amazing.