At HRBR we are seeing a big increase in the number of patients coming to us for hair transplant repairs following work carried out at other clinics. These patients normally request hair transplant repair work due to unnatural looking hair lines, excessive scarring in the donor area and infection. Here is a case study relating to one such patient.
A few years ago, a patient approached HRBR requesting expert advice and assistance following a "horrendous experience" at another clinic. This other clinic had performed a number of extremely poor hair transplants on the patient over a number of years. The results of the procedures were a poorly designed hair line, scarring and infection, as is evident in the photos below.
In addition to the physical trauma suffered by the patient as a result of the ineptitude of the clinic who carried out these procedures, the patient was also suffering from emotional trauma and in their own words were "in a very low emotional state as a result of this distressing experience".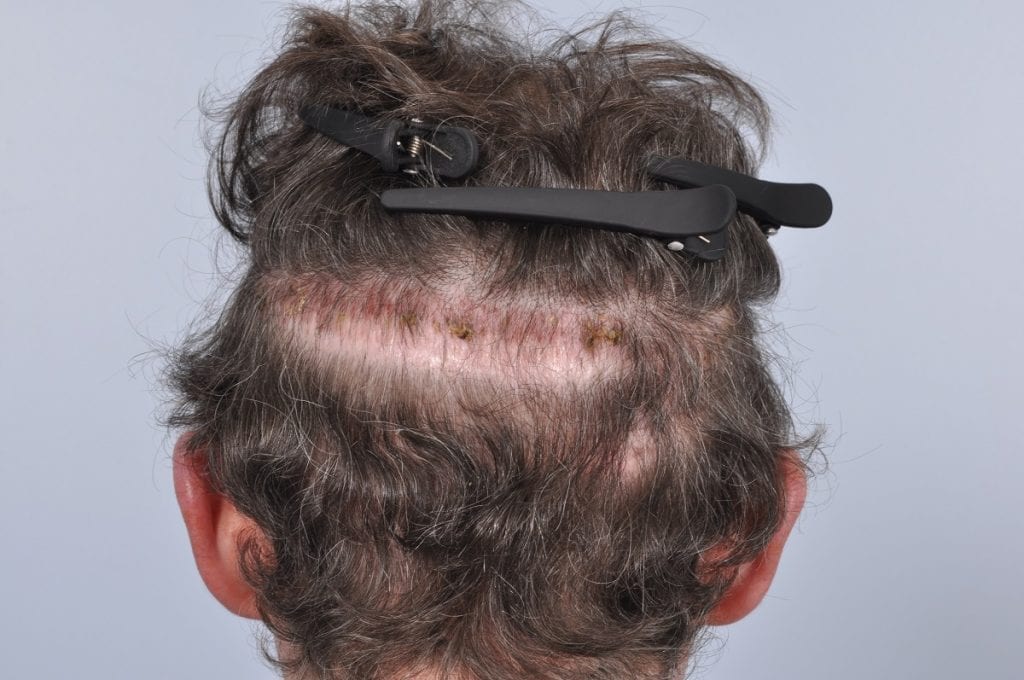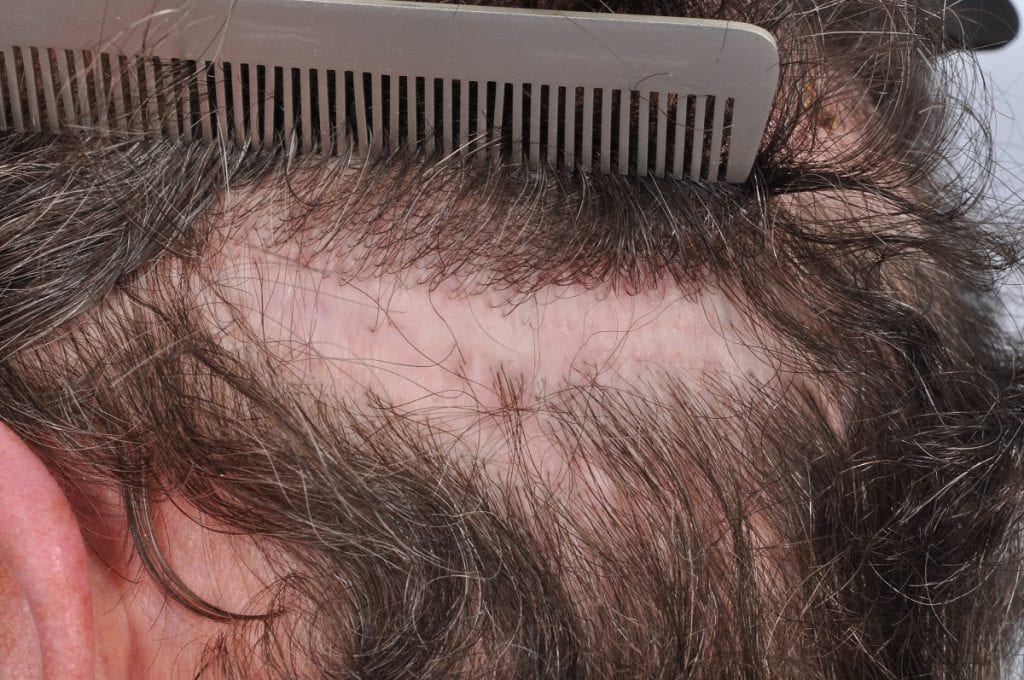 In the patient's own words
A few years ago, I approached HRBR following a horrendous experience I had with another so-called medical professional who performed a number of extremely poor hair transplants on me over a number of years. The visual results of these procedures were dreadful, and I also incurred terrible scaring at the back of my head as a result of the ineptitude and immorality of the 'doctor' who carried out these procedures.
No Regulation
With the increase in clinics offering hair transplant procedures and no regulation in the industry, the quality of hair transplants can vary greatly. For many patients a hair transplant is a positive and life changing experience. However, for some, the results from these clinics can be disappointing and can result in disfigurement and obvious scarring. A poorly designed and executed hair transplant can have a significant emotional as well as a physical toll on a patient.
The Importance of Hairline Design
In the patient's own words
Dr Collins, while shocked at the terrible procedures inflicted on me, was extremely kind and caring in taking time to consider potential options to at least try and improve the appearance of my hairline and deal with some of the very serious scarring at the back of my head. What impressed me most was that Dr Collins understood the terrible trauma I was going through at that very difficult time and his priority was helping me through this tough period.
Hair Transplant Repair – What can be achieved
Unfortunately, patients undergoing repair work are at a disadvantage to those who have had no work done at all. They have already used some of their limited supply of donor hair and are forced to use some of the remainder camouflaging the poor work instead of concentrating on treating their areas of hair loss. Repair work sometimes requires to be done in stages, meaning the results can take longer to be fully apparent.
The good news for patients that have undergone less than satisfactory hair transplantation is that with consultation and planning, improvements can in most cases be made.
In the patient's own words
After a number of procedures, I was thrilled with the results considering the damage that had been done to the donor area and scarring at the back of my head from the previous amateur procedures that had been carried out. I can't recommend Dr Collins and HRBR highly enough or thank them enough for their kindness and professionalism shown to me at a very difficult time.

Hair Transplant Repair at HRBR – before and after results
It is important to remember that a hair transplant is permanent and while repair work can be very successful, a poorly executed hair transplant will always limit your options in dealing with your hair loss in the future. This Guardian article about the KSL Group in the UK is a good example of why it's important to do thorough research before choosing a hair transplant clinic.
In the patient's own words
Unfortunately, I made a serious error in not doing sufficient research for my initial hair transplants. Dr Collins and his team are the best at what they do, and I can't stress enough the importance of getting a world class surgeon, an expert in his field, to carry out what is an emotive procedure. From someone who initially had a very traumatic experience, if you are suffering from hair loss and/or considering a hair transplant, you will not regret making an appointment with Dr Collins at HRBR to consider all your options.
Need to Repair a Hair Transplant? Contact Us
Want to discuss how our expert team can repair a hair transplant carried out at another clinic?  Contact us today and arrange an appointment to discuss your situation with one of our expert hair restoration doctors.  Your enquiry will be treated professionally, sympathetically and confidentially. We have the expertise to help.