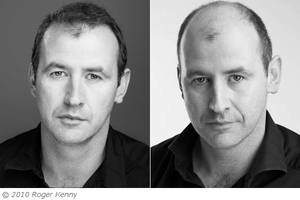 A good friend of mine went into HRBR today to get the procedure done. He has been watching my results with interest and had seen the positive effects that the procedure had on me and so decided to go for it himself. He was happy that I came into the photography room with him. This is where Maurice & his team use lasers to design and sculpt the new hairline prior to the operation.
It was pretty amazing to be on the other side and see the amount of precision and dedication that's taken by every member of the team. I am confident that my friend's life will change radically from this procedure, and I am really looking forward to seeing his results.
Maurice also managed to take a few photos of myself over the last number of months, and it gave me a pleasant surprise to see how much thicker my hair has become in just two months. Have a look at the photos here and you can see what I mean.
I could have hung out in the clinic for days….. but I have lines to learn!
Will keep you posted on my friends progress – as well as mine of course!